Regular price
$15.00
Sale price
$16.00
Unit price
per
Sale
Sold out
From Pineapple Upside Down Cake to Pina Coladas can we ever get enough Pineapples?
Inspired by this sweet tropical fruit, our Pineapples Everywhere kitchen towel is sure to inspire all summer long.

Fun Fact: Did you know that pineapples are not a single fruit, but a group of berries that have fused together? (No wonder I've always thought of it as magical!)

And even though it can take more than two years for a pineapple plant to produce a single pineapple fruit, we won't make you wait much more than a few days to have them in your kitchen!

Celebrate this favorite summer fruit all season long and pick up a "Pineapples Everywhere"  Flour Sack Towel today!
Plus, our flour sack towels are made of a thicker, re-useable 100% pure premium cotton, which even makes them more absorbent than other towels on the market.
Grab yours before they're gone!

 4 Favorite Ways to Use Your Flour Sack Towel
(Do your other towels do that?)
1- Dry dishes and cutlery – Finally a lint free experience when drying glasses and other dishes.
2- Streak free windows - Save those paper towels for another day, grab your flour sack towel and your favorite window cleaner and start enjoying beautiful windows and mirrors all over your home. 
3- Potholder or oven mitt – It's already hanging right there looking SO fun in your kitchen...go ahead and fold it into quarters or half, because they work perfectly for protecting your hands.
4- Clean salad – run greens and herbs under water, lay out flat and roll them in the towel and this will absorb all the moisture in the salad. 
Fit & Material: 
Thicker & Absorbent, 100% Pure, All-Natural Ring Spun Cotton - 

Because unlike towels at department stores, our cotton towels LOVE water and just can't seem to get enough!
Artwork is digitally printed into the towel and commercially manufactured and packaged and ready for display in your kitchen!

 
Oversized 28" x 28" - 

Because drying BIG dishes with SMALL towels is THE WORST!  
Designed and shipped in USA - Manufactured in India
Grab your Flour Sack Kitchen Towel before they're gone. 
Limited quantities available.
Share
View full details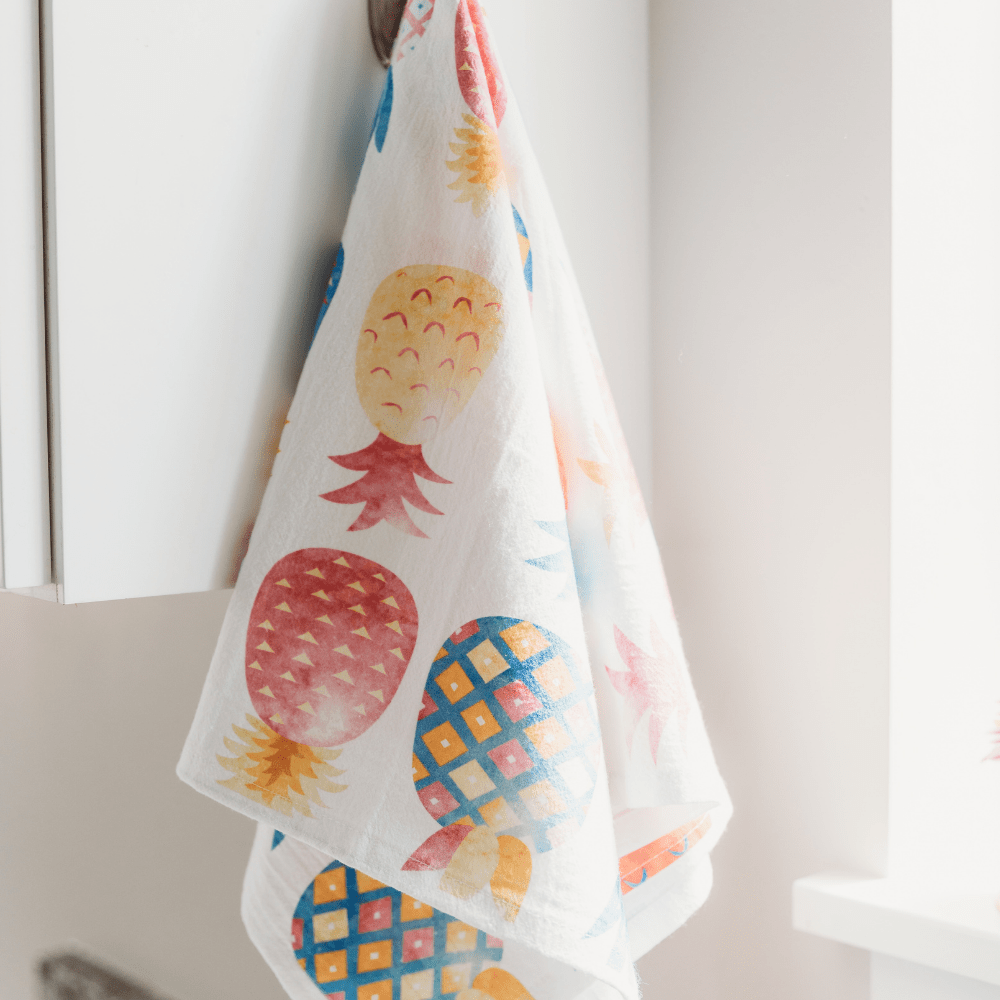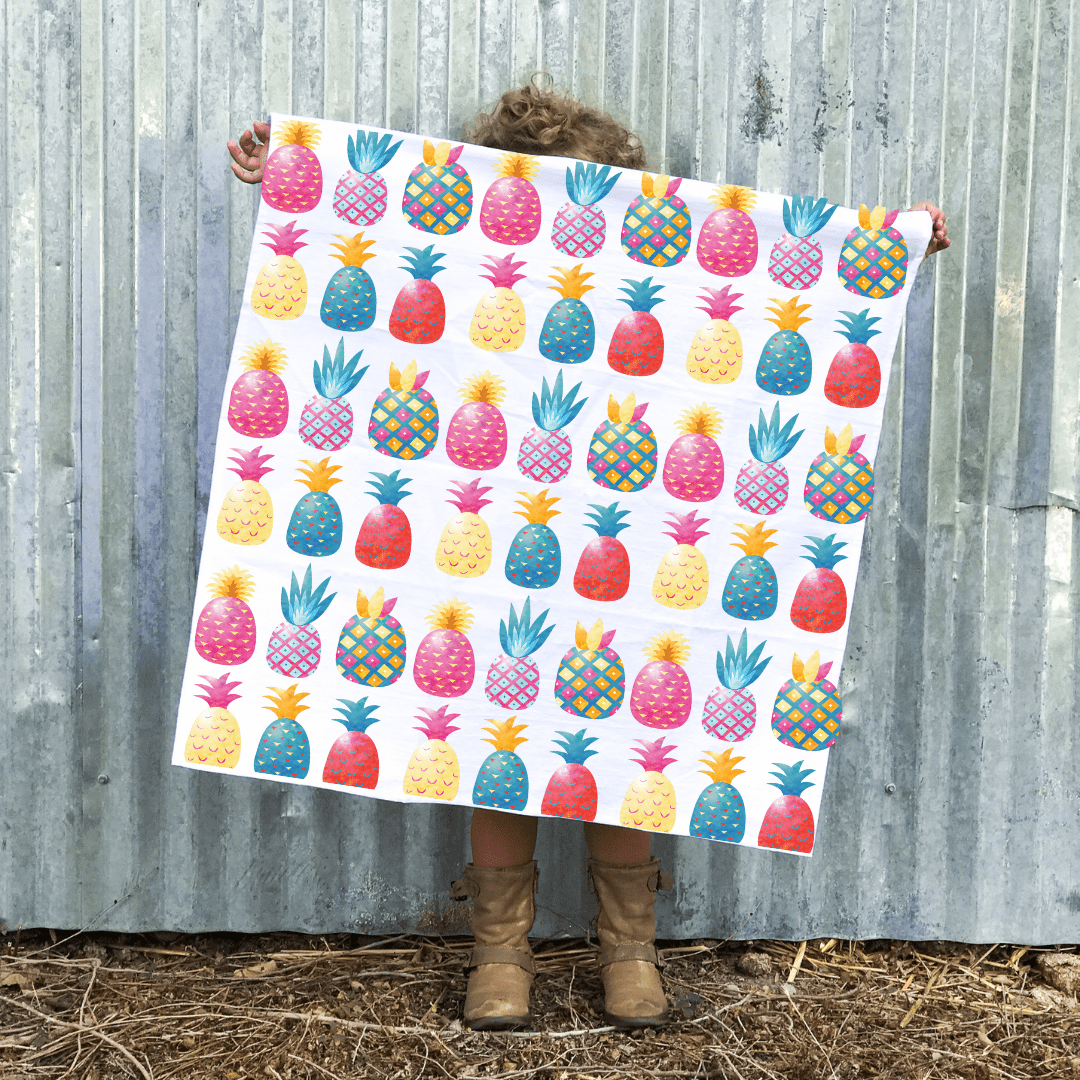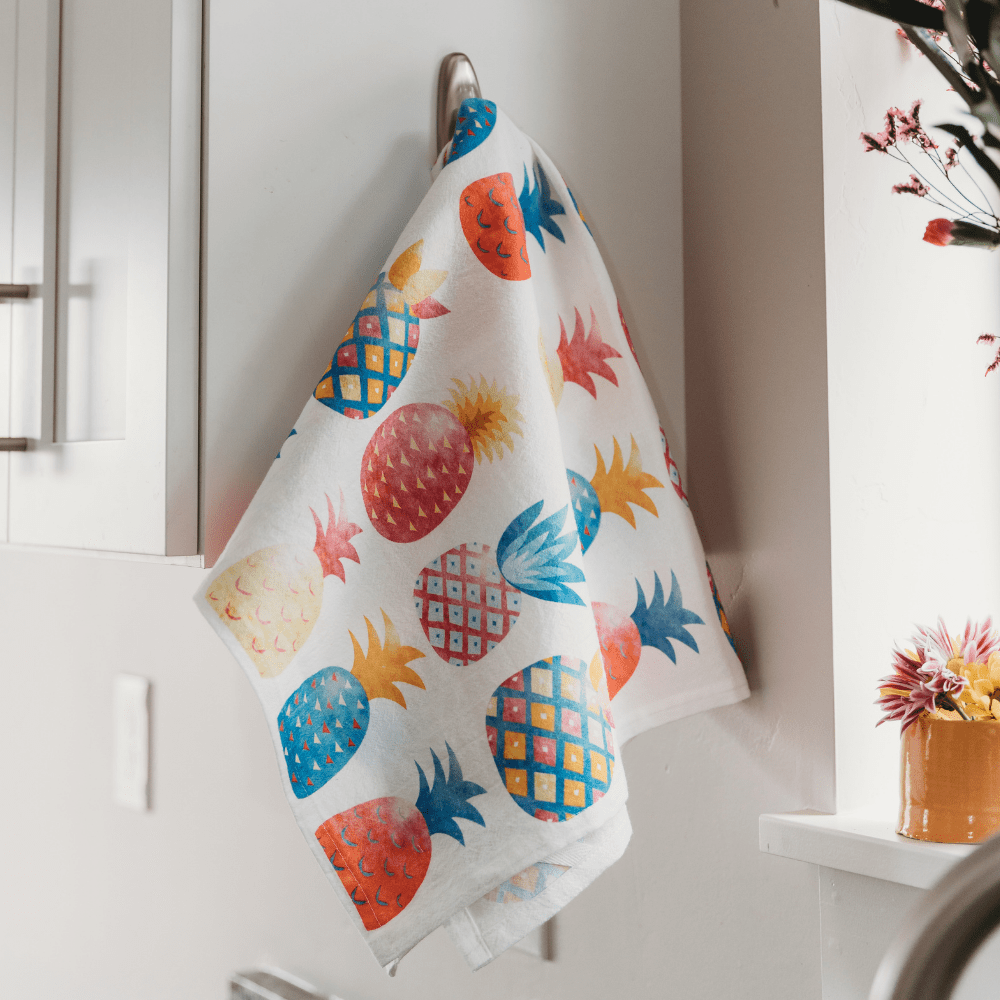 Loved everything! Pineapple towel is very pretty, and colors, size and quality of the hostess server sets are great!! Very happy